Hey Y'all!
I just wanted to send out a quick post with a fun idea (that I nabbed from my 'Christmas Crazy' friend Sherri!  She has 7 trees in her home and starts to decorate as soon as the last trick-or-treater is gone (maybe the next day, but not too much longer).   I have always struggled with how to display Christmas cards.  We get quite a few (not to brag or anything…hehe) and I usually end up stacking them somewhere and then not really getting to enjoy them.    That's no fun!!
So when I saw Sherri's Christmas card tree, I knew what I had to do!  This tree was from Wal-mart and is 6ft tall.  I added the lights, burlap ribbon, made a ruffled linen tree skirt and called it a day.  Voila!  I keep a bowl full of these fun ornament hooks in the living room so that I can quickly hang up the cards when they come in the mail (I may or may not cry every time I have to untangle them…).
Now I can enjoy the cards as they come in and so can everyone else that visits.  Let me know if you have a fun way to display your cards, I would love to hear from you!
Blessings,
Holly
PS-by January this card tree will be laden with cards (again, not to brag…) 🙂
Linking to: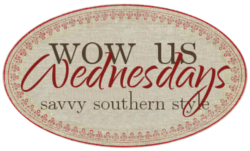 Homework  *  The Blackberry Vine  *  Love Grows Wild  *  BeBetsy  *  Yesterday On Tuesday  *         The Winthrop Chronicles  *  Nap-Time Creations  *  Not Just a Housewife  *  Sugar Bee Crafts  *  Kathe With an E